At this point, 8 bowl games have been played and there's no stopping me. Hopefully I'm winning you guys a little bit of cash while you enjoy some postseason football. One of the reasons why I love bowl season so much is because of how there always seems to be a game when you turn on ESPN. This is definitely the case in the early part of the bowl season and in this third set of bowl previews, hope you enjoyed last nights MACtion!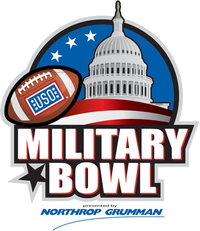 Military Bowl, Friday, December 27th, 2:30pm
Marshall (9-4) vs Maryland (7-5)
-Spread and Total– Marshall -2.5, Over/Under 61
­-Marshall's Key Players–
Rakeem Cato, QB, has 42 total TDs on the season and has been as consistent as they come when it comes to QBs. He has at least 2 TDs in 12 of Marshall's 13 games this season. Against Maryland, he has big upside becomes it should be a competitive game with a nice total. Any time Logan Thomas or UVA's QBs have success against a defense you know there is big upside in a player especially when Cato is much better than them.
Tommy Shuler, WR, will be one of my favorite WR plays this bowl season and it's fairly evident why. For one, his price has never really been killer on any DFS site. He recorded 97 catches for 1,097 yards this season and has caught six passes in each of his last seven games. Shuler has also gone for 100+ yards in three of his last five games.
Essray Taliaferro, RB, is an option going into this game because of how bad Maryland has been against the run at times. They have given up 240+ yards four different times this season and Taliaferro is a 1,000 yard rusher. He has 12+ carries in nine different games this season, so he'll have a chance to have a big game against Maryland.
-Maryland's Key Players–
CJ Brown, QB, started the season on a major hot streak, had a period of time where he was hurt/not good, but now he's back. He had a monster game against NC State in their season finale. In that game he threw for 259 yards and 2 TDs and also ran for 138 yards and 3 TDs. Does that sound like a guy you might be interested in using against a Marshall defense 28+ points in three of their last four games.
Amba Etta-Tawo, WR, is a guy I would consider taking as a min price option on DFS sites this bowl season. He has been pretty steady in his last six games going for at least 4 catches in five of them. He has also eclipsed 100 yards receiving twice in his last four games. Etta-Tawo is clearly gelling with Brown and an extra few weeks of practice can only help the freshman WR.
-Marshall's Outlook– Marshall was playing very good football until they ran into a buzz saw named Rice in the Conference USA Championship Game. Rice ran all over Marshall and couldn't be stopped. Before that game, Marshall had won five straight games scoring 59, 48, 45, 56, and 61 points. Marshall has only made a bowl game one time in Doc Holliday's career their and they are 1-0 with a win against FIU in 2011.
-Maryland's Outlook– Maryland has had a ton of injuries in two straight seasons and will be playing this game essentially without their top two WRs and best playmaker other than CJ Brown (Stefon Diggs). They have 20 players on their injury report compared to Marshall's 9. Two of these players that aren't sure to play are two contributing linebackers to their defense. This is Randy Edsall's first bowl appearance with Maryland, but he did go 3-2 with UConn in his seven seasons with them.
-Prediction– Marshall's recent performances and all around better health will play a big role in this bowl game. In what should be a high scoring game (as long as Brown gets his), I like Marshall's weapons over Maryland's and that will be enough to cover less than a field goal. One slip up or bad game from CJ Brown and Maryland gets beat bad.
Marshall -2.5
Over 61
This fourth set of bowl games is a short one, but should make for good television. The Minnesota/Syracuse game isn't likely to put up a lot of points, but should be a close ball game while the BYU/Washington game should be a close game with a ton of points. I'm feeling a bit nerdy at how excited I'm getting over these games…
Texas Bowl, Friday, December 27th, 6pm
Minnesota (8-4) vs Syracuse (6-6)
-Spread and Total– Minnesota -4, Over/Under 47.5
-Minnesota's Key Players–
David Cobb, RB, is going to see 27+ carries in this game just like he has in four of Minnesota's last five games. Cobb is a complete workhorse who is depended on more to run hard and not worry about yards per carry. Well, Cobb did have some big games this season including a three game stretch of 130+ yards when the Gophers faced Nebraska, Indiana, and Penn State.
Maxx Williams, TE, is a freshman who will be known in the Big Ten for the next few seasons because of his talents. He has size (6'4 254) and speed to be a dominant force in the passing game. The problem is that the Gophers rarely pass the football. Williams has caught at least one pass in each of his last five games (10 total) scoring twice. If he's minimum price he won't be a bad option at all.
-Syracuse's Key Players–
Terrel Hunt, QB, has had a decent season for the Orangemen, but he is coming off his last game and a few extra weeks of practice. He scored three times against Boston College and added 90 yards on the ground. His passing statistics are far from impressive, but he has added five TDs on the ground this season and has run for 55+ yards four times this season. I suspect the coaches will let Hunt be a playmaker with extra time to prepare for the game.
-Minnesota's Outlook– Minnesota has lost two straight games, but both were close games to ranked teams (Wisconsin and MSU). Before that, the Gophers had won fou straight games.
Coach Jerry Kill is well known for his unfortunate health issues and because of them has been limited to the press box for games. Minnesota came out of nowhere and won eight games this season. Kill has a very unimpressive post season resume losing every bowl game he's been the head coach for (0-3) with a loss last year in the Texas Bowl.
­-Syracuse's Outlook– The Orangemen won their last game to become eligible for a bowl and are the 11th team from the ACC to play in a bowl game this season. Their wins haven't been impressive at all beating zero ranked teams. Scott Shafer is in his first season of being a head coach and therefore has never coached in a bowl game. The Orangemen aren't new to bowl games though as they have played in the Pinstripe Bowl in 2012 and 2010 both times winning.
­Prediction– Is it better to have no real experience in bowl game preparation or to be unsuccessful period in bowl games? Well, I'm calling it a draw and looking just to the field for this decision. Minnesota knows exactly who they are (a boring run offense that won't make mistakes) and that gives them the upper hand. That and more consistent play out of their top players has me thinking Minnesota comes out with the win in Texas. It also helps that they have two capable QBs for their offense and Syracuse will have to plan for both.
Minnesota -4
Under 47.5
Kraft Fight Hunger Bowl, Friday, December 27th 9:30pm

Washington (8-4) vs BYU (8-4)

-Spread and Total– Washington -3, Over/Under 58.5

-Washington's Key Players–

Bishop Sankey, RB, is regarded as one of the top RBs in the country and rightfully so. He has run for a TD in every game (19 total) while accumulating 1,775 yards on the ground. Sankey is a complete workhorse averaging 25 carries per game. There is no stopping a guy like Sankey in this wide open offense. He has run for 200 yards three different times this season and has gone for 100+ in nine games. BYU has done fairly well against the run this season, but struggled against the better running teams they faced (Notre Dame, Wisconsin, Georgia Tech, and Boise State).

Keith Price, QB, wouldn't normally be talked about in my columns, but in his final game I think there is some upside in picking him. He was hurt for one game, but then came back against Washington State and played well scoring twice and completing 15 of 20 passes. Without his injury, Price would have likely thrown for 3,000 yards and 20+ TDs. On sites where he might be priced lower than usual I would consider him as an option.

BYU's Key Players–

Taysom Hill, QB, is the leading passer and rusher for BYU and it's not because of a lack of talent at the RB position. He ran for 1,211 yards this season with nine TDs. Through the air, Hill has had a few moments of brilliance, but usually doesn't pass for 300+ yards (only did so in 2 of his 12 games). Instead, Hill has run for 100+ yards five different times including a stellar performance against Texas where he ran for 259 yards and 3 TDs.

Jamaal Williams, RB, would have surpassed Hill as the leading rusher, but suffered a concussion in the Utah game causing him to miss the next week. Williams has ran very well as of late going for 219 yards in his last game and scoring four times in his last three games. It is very likely that one of Williams and Hill will have a big game on the ground, but we just have to figure out which one.

Washington's Outlook– In the beginning of the season, I was very high on the Huskies. Their offensive attack was brilliant and they started 4-0 because of it. They went on a three game skid against a tough schedule, but did end the season 4-1 in their last five games. I'm afraid this team can't compete with the best teams they face, but have no problem with lesser opponents.

Washington will be without their Steve Sarkisian with him heading to USC to be their head coach next season. Instead, they have hired Chris Peterson from Boise State to be their head coach. They will also be without three assistants due to them leaving with Sarkisian. The Huskies are in a tough spot with their coaching changes during the time off.

BYU's Outlook– BYU had another solid season winning 8 games, but they lost to their rival Utah at the beginning of the season. They also somehow lost to UVA which is just amazing to me how someone in a bowl game could lose to them. I think it's safe to think this BYU team is more like the end of their season then they were at the beginning of the season. Like Washington, BYU struggled to beat the best teams although they did beat Texas.

Bronco Mendenhall has been great in bowl games posting a 6-2 record including four straight wins in the last four seasons. Mendenhall obviously knows what he's doing and should definitely be considered an advantage coming into his game.

Prediction– The worst thing that can happen for a school is time off and time for players and coaches to get into no good. Well, Washington's head coach was up to no good and abandoned ship for sunny Los Angeles and took assistants with them. I have a hard time going with a team that has a staff around them that have been put in new situations. I think BYU covers in this game and has a high chance of winning with their studs Hill and Williams leading the way.

BYU +4
Over 58.5

<!-comments-button-->